Buying & Fitting Your Tyres At AutoCentre Rushden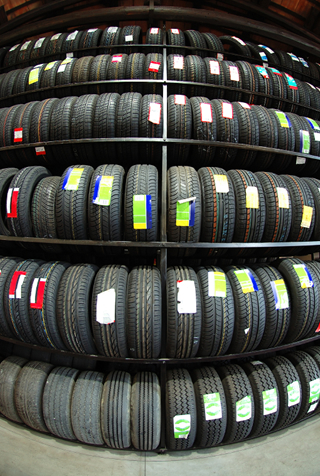 At Autocentre Rushden we know that keeping your family safe on the road when travelling is the most important thing to you. As the tyres on your vehicle are the only contact between you and the road surface, keeping them in the best condition possible is of upmost importance.
Our impeccable tyre fitting service and stock means that we will be able to supply, fit & balance new tyres to your vehicle quickly and efficiently to your budget.
With our experience and expertise, we are also members of Fit4Fleet, Hi-Q and National Fleet. If your company has a fleet of cars or vans and would like free Health Checks, please call us on 01933 353250 and we will be able to help you.
Our 5 Guarantees To You
1. We will use Nitrogen inflation free of charge.
2. We do not use pneumatic air guns to remove and refit your wheels.
3. We will always offer our premium service and inflate with Nitrogen no matter what your budget is.
4. Free visual check of: Braking System, Suspension Components & Drive Boots.
5. Free alignment check with our fitting & balancing service (appointments always necessary).
Find Out More Below
---
How Can You Book For Your New Tyres & Balancing?
If you would like to book your new tyres & balancing service, please call us on 01933 353250 and we will be happy to help you.
Alternatively you can view our range, purchase your tyres & book for fitting via our online service here: http://www.rushden-tyres.co.uk/
Why Do You Inflate Tyres With Nitrogen?
Nitrogen can be used to inflate your newly fitted tyres no matter what vehicle you drive. Why do we use this? See the reasons below:
Nitrogen minimises fuel consumption – Tyres will hold Nitrogen much more sustainably than air. Because of this, tyres maintain their shape and ensure even road surface contact reducing fuel consumption by up to 5% a year.
Nitrogen improves tyre life – Because unlike compressed air, Nitrogen does not deteriorate the tyre over longer periods of time. By doing so, tyre pressures are maintained for much longer, cutting replacements costs by up to 18% as well as reducing the disposal impact on the environment.
Nitrogen increases driving safety and comfort – Nitrogen reduces heat build-up in tyres, also because of holding air pressure over long periods of time the risk of skidding & reduced control of the vehicle is dramatically decreased whilst improving comfort, handling & safety.
Why Do You Not Use Pneumatic Airguns To Remove & Refit Wheels?
Unlike many other tyre fitting centres, we do not use airguns to remove & refit wheels for one simple reason. When using airguns there is a very high potential that the wheel bolts or nuts threads will stretch (as well as the chance of cross threading) due to over torqueing. This will results in almost impossible road side tyre changes in the unfortunate event of having to do this with simple tools.
How Quickly Can You Fit & Balance My New Tyres?
Following our premium service of supplying and fitting tyres to your car, the average time of fitting 4 new tyres is approximately 20-30 minutes. If an in stock tyre is ordered, please allow 30-45 minutes for the whole service to be completed (average family hatchback). If a certain tyre is required which is not held in stock, please allow 24 hours for the tyre to arrive and fitting to be available. In some circumstances we will be able to supply and fit specific tyres in 12 hours.
Can You Offer Part Worn Tyres?
At Autocentre Rushden, we do not supply or fit part worn tyres. Although they may seem to be a great initial purchase, part worn tyres can potentially be extremely dangerous for the driver and passengers on board as part worn tyre condition can drastically differ in each and every case and can adverse driving conditions. Please see the below video from Tyre Safe as to the dangers of part worn tyres:
We are extremely confident at Autocentre Rushden that although we do not supply part worn tyres, we will be able to supply and fit brand new tyres within a small budget.
---